14.09.2023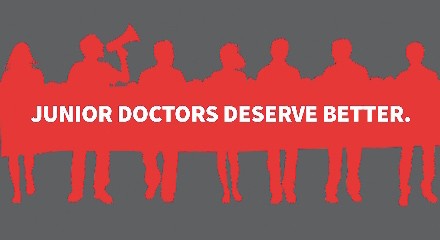 Doctors step up action
BMA members have returned huge majorities for strike action. While the Tory government remains intransigent, there does seem to be some movement on Labour's front bench, Richard Galen reports
At the end of August came the welcome announcement that the British Medical Association will be conducting the first round of coordinated industrial action, involving both junior doctors and consultants. Clearly an escalation, coming straight off the back of the recent reballot results that saw junior doctors in England extend their mandate for strikes until the start of 2024.
At the heart of the dispute is, of course, the demand for "full pay restoration", bringing doctors' salaries back to 2008 levels. Taking inflation into account, that means a 35% increase is needed to take us back to where we were 15 years ago!
The reballot - a requirement of the Tories' oppressive anti-strike legislation, which must be carried out every six months to ensure that industrial action is legal - far from demonstrating strike fatigue among members, actually resulted in a slight increase in the percentage voting 'yes' to continued action (up to 98.4%). True, there was a slight decline in turnout (down to 71.3%) - mainly attributable to the large number of new members that have joined the BMA since the last ballot - still easily cleared the 50% threshold.
As readers will know, two rounds of strikes have been announced for September and October, including four days where both consultants and junior doctors will be picketing together, with a 'Christmas Day' level of emergency cover remaining to ensure acute care needs are met. There are also a further three days of action, where either juniors or consultants are on strike (with consultants again providing emergency cover only).
Although morale remains high, some posts on social media have questioned the decision to 'de-escalate' the strike protocol for juniors, given that previous rounds saw a complete walkout for the entirety of the strike action. The level of 'Christmas Day' cover has not been fully defined, and unscrupulous managers have employed tactics, including redefining normal shifts as 'on-call' at short notice in order to prevent doctors from joining the picket line.
Induction
The October round of strikes also coincides with the date that many junior doctors rotate between NHS trusts and hospitals, and thus many will not be attending their 'medical induction', often carried out on the first day of a new rotation in order to familiarise new starters with IT and security systems, as well as the layout of their new work environment. Again, social media posts indicate that managers are using the induction process to try to intimidate staff into attending on strike days, with some citing patient safety concerns.
What cannot be denied, however, is the fact that, as costs from missed elective work continue to mount (with some estimates putting the cost of strikes at over £1 billion so far) and waiting lists continue to increase, the pressure on the government is not letting up.
Interestingly, where this pressure does seem to have had an impact is on the opposition benches. Labour's shadow health secretary, Wes Streeting, has softened his rhetoric regarding pay restoration. Previously he had refused his support - if not expressing outright opposition - for the strikes. But in a recent interview on LBC radio he decried the government's lack of willingness to get round the negotiating table and stated that meeting the BMA would be "top of [his] list". He also cited the last Labour government's success in delivering fair pay to doctors, giving hope to some union activists that discussions with the BMA would be much more forthcoming if Labour wins the next election, even under the current rightwing leadership.
Elsewhere in the UK though, the Labour-led Senedd in Wales faces further healthcare disruption, as the Welsh BMA has decided to ballot its members working in hospital medicine, including consultants, for a mandate to strike, which if achieved would commence with a 72-hour walkout by junior doctors. This comes after they soundly rejected a well-below-inflation pay offer of between 1.5% and 5%, the lowest in the UK. This was despite Labour's commitment back in April to the principle of pay restoration. Whether this has anything to do with Streeting's climbdown remains to be seen.
Ongoing detrimental changes to pay and conditions remain a major concern for the future of the NHS, with a recent item in the British Medical Journal reporting that a third of current medical students plan to leave the NHS entirely within two years of graduating. Coupled with the current exodus of doctors from the UK for better pay and better treatment, the deficit in staffing does not show any signs of improving.
Debt
It is not hard to see why these future doctors are planning in this way. Once qualified, they are often saddled with over £100,000 in student debt, eroding their wages for decades, and on a starting salary as low as £14.09 per hour. With reforms to the Foundation Training programme (effectively the first two years as a qualified doctor), they can now be sent far across the country from their homes and families, entirely at the mercy of a sorting algorithm deciding which NHS trust they are allocated to. This is then followed by years of rotational training, having to move hospitals as often as every four months, causing huge issues with family life and childcare - not to mention the long hours, night shifts and weekend working.
Despite being recently released to the public with great fanfare, the NHS Long Term Workforce Plan does little to address these issues, with serious concerns being raised about making up the shortfall in doctor staffing: less qualified and lower-paid healthcare professionals, such as physician associates (formerly assistants), undergo far shorter medical training and still require a supervising consultant in order to practise safely. Proposed 'medical apprenticeships' also shorten the length of a medical degree (it has, of course, not been stated which current parts of the university course could be safely dropped). This will leave graduates of such programmes locked into the NHS and at the mercy of its managers for the rest of their careers, as other countries will not accept the qualification.
All in all, this summer has seen both positives and negatives for the BMA's campaign for full pay restoration. The continuing mandate for strike action shows the membership is fully engaged to carry on with the fight, and more engagement from a possible future Labour government evidences the effectiveness of coordinated action. But the union needs to be guided more effectively by its members' interests and not falter in its resolve, as the battle is far from over.