02.11.2023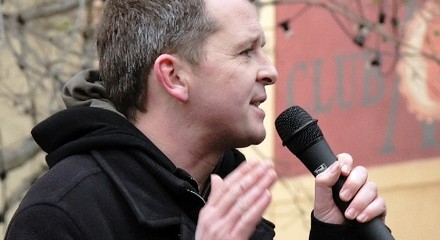 What happened to solidarity?
Anne McShane celebrates the fellow feeling with the Palestinians and notes the drift of Sinn Féin into the mainstream pro-Israel consensus
It is no surprise that the Irish government was one of those which voted for the Jordanian ceasefire proposal at the United Nations general assembly last week.
Identification with the Palestinian struggle runs deep here. Palestinian flags and murals can be seen on buildings in republican areas in Northern Ireland, while many in the 26 counties unite the national flags of Ireland and Palestine as a symbol of resistance. Certainly the green, white and orange tricolour could be seen alongside the red, black, white and green Palestinian flag at marches all over the country over the last three weeks.
This sense of identification exists even within the governing classes. Successive Irish governments have opposed the systematic annexation of Palestinian land and the oppression of its people. Ireland was the first member of the European Union to recognise the Palestinian Liberation Organisation in 1980. Yasser Arafat visited Ireland on several occasions in the 1990s, holding talks with government officials on the hopeless efforts to pressurise Israel into doing something real when it comes to the so-called two-states solution. In 1999 the then taoiseach, Bertie Ahern, visited Gaza, where he held talks with the PLO before returning directly to Ireland without stopping off in Tel Aviv.
In 2014 a government motion was voted through to formally recognise Palestine and establish diplomatic relations. In 2018 the Dáil passed the Occupied Territories Bill, which banned the import of all goods and services originating in illegal settlements in the West Bank. All those in breach would receive a heavy fine or imprisonment. In May 2021 a Sinn Féin motion condemning Israel's "de facto annexation" of Palestinian land in the occupied territories was passed with the support of all parties. The next day the tricolour was raised over Ramallah City Hall in the West Bank. Then in May this year the government announced it supported the "principle" of a Sinn Féin bill seeking to compel state investment funds to sell off their holdings in companies listed on a UN database of firms operating in occupied Palestinian territories.
Recognised
But these legislative moves against Israeli settlements and for Palestinian national rights have remained on paper. The decision to formally recognise Palestine has never been implemented. The Occupied Territories Act was shelved by the present coalition government, when it came to office in 2020. And the most recent proposal to force the sale of state-funded shares in Israeli firms has also been kicked into the long grass, with the government claiming concern that it will face legal action. The Irish government has been engaging in a form of virtue signalling. It looks like it has a principled stand on Palestine, but is pursuing Realpolitik in practice.
Successive foreign ministers have sought to win over their counterparts in Europe to facilitate a negotiated settlement. The aim has been threefold - a two-state solution, building Palestine institutions and providing humanitarian aid.
Evidently that approach has not worked. Besides having the full backing of the US government, Israel has huge support in the EU. The German government has been absolutely adamant in its favour. Greek prime minister Kyriakos Mitsotakis has described Benjamin Netanyahu as not only a political ally, but a "true friend". Throughout Europe pro-Palestinian protestors face bans and police crackdowns.
The EU parliament's motion of October 19 is a good illustration. Hamas was condemned for its "despicable terrorist acts", while Israel's right to 'defend itself' was underscored with the call for a "humanitarian pause" rather than a ceasefire. The latter would interfere with the Israeli prerogative to conduct war. There were 500 votes in favour, with 24 abstentions and 21 against. The majority of Irish MEPs were included in the 500. The four who refused to do so were Chris MacManus (SF), left independent Clare Daly, along with another member of 'Independents 4 Change', Mick Wallace, plus Luke Ming Flanagan (independent), with Daly condemning the parliament for "aiding and abetting war crimes".
Sinn Féin
But, while Irish government politicians had no problem condemning Hamas as a terrorist organisation, that stuck in the throats of some SFers. In response to EU commission president Ursula von der Layen's one-sided condemnation of Hamas on October 7, Chris Andrews, SF TD for Dublin Bay South, tweeted: "It seems that according to the EU and Ireland only Palestine has no right to defend itself against murder, torture and apartheid." Then Paul Donnelly, another SF Dublin TD, wrote:
The Israelis have been systematically destroying any chance of peace in the region. They are an apartheid regime. The EU/US aided and colluded with this apartheid regime. If the EU is to have any credibility today, it needs to stand up for peace and that means standing up to Israel.
Not so SF leader Mary Lou McDonald, who made it clear that she would not be departing from the official condemnations of Hamas, describing its attack as "truly horrific" and condemning outright the targeting of civilians and the taking of hostages.
Her attitude and the subsequent apparent backsliding of SF on some of its previous demands has been criticised by People before Profit in recent articles. In particular, there was condemnation of SF's support for a government motion in a Dáil debate on October 18. McDonald had proposed amendments, including one to add a condemnation of "Israel's brutal assault on the civilian population of Gaza, which has resulted in more than 3,000 deaths, including over 1,000 children to date in breach of international law". This was voted down, along with her other proposed amendments. The final motion issued its only condemnation - of "the brutal attack by Hamas in Israel" on October 7, "indiscriminately and systematically targeting civilians, and resulting in over 1,400 deaths". It vaguely called on Israel to act with "humanitarianism" and stated that "Israel's right to defend itself from attack must be in line with international law".
PBP had put forward a countermotion, calling for the expulsion of the Israeli ambassador, the resignation of von der Layen, the referral of Israel and Netanyahu to the International Criminal Court, the ending of the siege, occupation and the dismantling of all illegal settlements, support for boycott, divestment and sanctions, and the dismantling of Israeli apartheid. But "shamefully, Sinn Féin did not support the … motion and our motion fell". This was despite SF's previous calls for the expulsion of the Israeli ambassador and its support for BDS. PBP called for SF members to rebel:
This is a cause that is of deep and long-standing importance to Sinn Féin rank-and-file members, but Sinn Féin's leadership is failing Palestinians. It is time for ordinary Sinn Féin members to act, to challenge Sinn Féin leaders and support the Palestinian people now when they need it most.
Another PBP piece on October 27 expressed disappointment at "the silence of Sinn Féin":
Sinn Féin members across Ireland pride themselves on support for Palestinian liberation. Yet their leadership is wining and dining with representatives of US imperialism, and not a peep uttered about the blood on Biden's hands.
It demanded that "elected politicians in Ireland must call out the US. Stop cosying up to their representatives. And back the call to expel the Israeli ambassador." On October 26 a motion put forward by PBP councillor Shaun Harkin to Derry and Strabane Council was successful, despite the opposition of SF. The motion read: "Council will write to the Irish and British governments to support the call for an immediate cessation of the bombardment and genocidal siege of Gaza; and for the immediate expulsion of Israeli ambassadors."
SF is now de facto part of the consensus on Palestine. McDonald wants to criticise from the sidelines, but at the same time show that she will be a safe pair of hands if it comes to her entering government. While SF members continue to express their strong solidarity, their leadership is compromising solidarity in practice. There is no doubt that rebels will be brought into line or find themselves out in the wilderness.
This is yet another warning of what SF will be like in government. It will be business as usual. This shows that PBP's call for McDonald to form a so-called 'left government' is itself an act of opportunism against which PBP members ought to rebel.