What happens after June 8?
Peter Manson reports on last weekend's meeting of CPGB members
On May 7 comrades from the CPGB gathered in London for an aggregate meeting. Unsurprisingly, the main item on the agenda was the forthcoming general election, although towards the end of the day we also debated the new global situation in view of Donald Trump's foreign policy.
Not SNP; Three elections; Percentages; Right party; No grasp; Motto; Progressive role
Adopted by the May 7, 2017 CPGB aggregate meeting
In this edited version of her speech to the CPGB aggregate, Yassamine Mather looks at Donald Trump's foreign policy after his first hundred days
Toby Abse reports on the balance of forces following Renzi's re-election
The collapse of the Soviet Union does not prove that planning is impossible, argues Mike Macnair
Unification under capitalism can only but perpetuate inequality, writes Michael Roberts
Mike Belbin reviews: 'Ghost in the Shell' Rupert Sanders (director), general release
'Killer air' represents a public health emergency, writes Eddie Ford, yet the government wants to do as little about it as possible
Robbie Rix looks for acceleration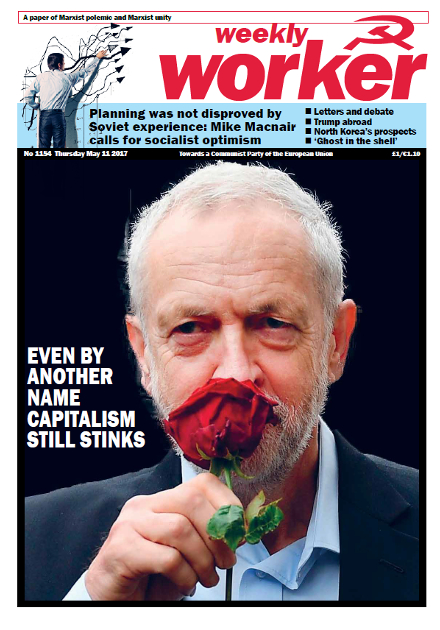 Weekly Worker 1154 is also available in PDF format