The spectre of deflation
Will falling prices help stimulate the economy? Michael Roberts argues that, on the contrary, profits will be squeezed
The huge fall in energy and other commodity prices towards the end of 2014 has driven the overall rate of inflation in prices of all commodities down. It increasingly looks likely that this is not just a temporary phenomenon caused by a competitive battle to gain market share in the sale of oil and other energy products. Low inflation - and deflation - is here to stay.
Charlie contrast; Keep on writing; True and deep; More questions; Incompatible; Left who?; New bond; Concrete issues; Fabrications; Sounds absurd?
Eddie Ford looks at the situation in Greece in light of the classic Marxist position - it is often necessary to hold back the spontaneous movement
Anne McShane describes how Sinn Féin has gone about trying to wreck the Right to Water campaign
Tina Becker examines the impact of Germany's new rightwing force
State antsiness about the 'dark web' reveals profound contradictions, argues Paul Demarty
Mark Fischer reflects on an interview he had with Jean Davis in 1985.
Stan Keable of Labour Party Marxists attended the January 17 Reclaim the Union meeting of Unison activists
Catastrophic climate change is very unlikely to be averted under capitalist conditions, says Simon Wells
Robbie Rix says we need more standing orders to meet our target regularly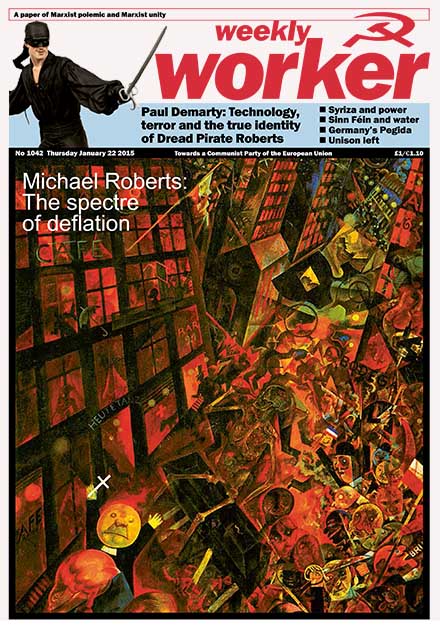 Weekly Worker 1042 is also available in PDF format