16.11.2023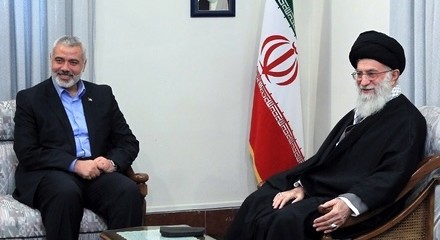 Hamas and its backers
Plenty of talk, but precious little action. Gaza offers the opportunity for the Arab masses to rise up and overthrow their own governments, writes Yassamine Mather
There is a video doing the rounds of Middle Eastern websites and social media showing George Habash, former leader of the Popular Front for the Liberation of Palestine, telling the people of all Arab states that the best way they can support the Palestinian people is to overthrow their own governments. The idea is certainly relevant today, following the joint Arab-Islamic emergency summit hosted by the Organisation of Islamic Cooperation (OIC) last weekend.
The meeting was heralded by some as a show of unity. After all, it brought together many Arab leaders, including former enemies: Iran's president, Ebrahim Raisi, Saudi crown prince Mohammed bin Salman, Egypt's president, Abdel Fatah el-Sisi, and Syrian president Bashar al-Assad. They signed a joint declaration calling for an immediate ceasefire and rejecting Israel's claims that the current war in Gaza is one of self-defence, and condemning "Israeli aggression on the Gaza Strip, war crimes and barbaric and inhumane massacres by the occupation government".
However, the conference's critics pointed out its shortcomings. Journalist Hashem Ahelbarra told Al Jazeera that without consensus among the summit attendees, its outcomes are useless:
People do understand that the Israelis don't really care about what is happening at this summit between the OIC and Arab League leaders. When you look at the communiqué you get a sense that the Arab and Muslim leaders do not have a mechanism to push a ceasefire and humanitarian corridor. This summit was just for the sake of a semblance of unity.1
While all the leaders used very strong words condemning the massacre of Palestinians in Gaza, no concrete decision was taken. Iran's proposal of imposing economic sanctions against Israel did not make it into the final communiqué.
Of course, Iran's Islamic Republic and its regional ally, Hezbollah, have always claimed they were more committed in supporting Palestinians and more radical in their approach to Israel than other Middle East leaders. But the recent war in Gaza has proved that, when it comes to self-preservation, the Shia 'supporters' of the Palestinian people are as opportunist and ineffective as their Sunni counterparts.
Iran's supreme leader, Ali Khamenei delivered a blunt message to Ismail Haniyeh, the head of Hamas, when they met in Tehran in early November, according to three senior officials: "You gave us no warning of your October 7 attack and we will not enter the war on your behalf." There will be continued political and moral support but nothing more.
In Lebanon, Palestinians, including many amongst the 250,000 refugees in Sabra and Shatila, have openly expressed their disappointment with Hezbollah's official stance, as well as surprise at the two meaningless speeches by the group's leader, Hassan Nasrallah. In other words, after four decades of masquerading as radical supporters of the Palestinians, Iran's Islamic Republic and one of its main regional allies can do no better than the likes of el-Sisi and bin Salman.
Of course, the problem does not end with them: Palestinian political groups and their leaders do not score much better. Fatah leader Mahmoud Abbas is frequently quoted, mainly because he keeps the illusion of a two-state solution alive. However, when you look at the map of the Palestinian Bantustans surrounded by Israeli settlements, no-one in their right mind can foresee such a thing. The western media have amnesia about the reason Fatah was unceremoniously thrown out of Gaza - because of their corruption and incompetence. In more recent times Palestinian president Mahmoud Abbas has postponed elections in the West Bank indefinitely, while his security forces are often accused of cooperating with the Israeli military.
Corruption
In Gaza itself Hamas is not doing much better. The reality is that if there had been elections there prior to the current war, it is unlikely Hamas would have won. Many resent the luxurious life in exile of Hamas leaders and there have been accusations of corruption within the administration, including the diversion of resources for personal gain.
The constant Israeli claims that the people of Gaza bear responsibility for Hamas should also be challenged. It rests on two main arguments, both of which have significant flaws. Firstly, it is claimed that Gaza's 2006 vote for Hamas in the Palestinian legislative elections directly led to the group seizing power through force the following year. Secondly, there is the constant Israeli suggestion that, as Palestinians have accepted 17 years of Hamas rule, there is at least a passive acceptance - if not complete approval - of its ideology and activities.
This despite the fact that Gaza has a very young population, many of whom were not of voting age or even born when Hamas was elected. In a poll taken by the Palestinian Center for Policy and Survey Research in June, 77% of Gazans expressed a desire for new legislative and presidential elections in the Palestinian territories (although 67% do not foresee such elections being held in the near future). The poll showed that Hamas would receive slightly more support than Fatah - 34% compared to the latter's 31% - and, interestingly, 43% believe that neither group deserves to represent them. In the Gaza Strip, 73% of respondents expressed a belief that there is corruption within institutions run by Hamas. Additionally, 59% indicated that they could not criticise Hamas authorities without fear of the consequences.
When it comes to corruption, as in the case of Fatah, we should not underestimate Hamas's finances. Qatar, Kuwait, Turkey, Saudi Arabia, Algeria, Sudan, Iran and the United Arab Emirates are all financial as well as political supporters. The most important is Qatar. Its financial support began in 2014 - to prevent a "major humanitarian crisis in Gaza". The emirate actually delivers such aid to Hamas through Israel, and there has never been any secret regarding this.
Hamas began as the Palestine branch of the Muslim Brotherhood - a pan-Islamist organisation that was founded in Egypt in 1928. Relations between Palestinian groups based in the Gaza Strip and Egypt were at their best during the rule of Mohamed Morsi and the Muslim Brotherhood in Egypt, but they have been weakened since 2013, when el-Sisi became president after his coup. For Hamas, Egypt remains important. Before the current conflict, the largest volume of food and other supplies for the Gaza Strip came through Egypt.
There is not much evidence of Turkish financial support for Hamas, although the Israeli paper Ha'aretz has speculated that Turkey probably gives Hamas $300 million a year. As for Iran, it has often been named by officials in successive US administrations as one of the main funders of Hamas. However, given the country's financial difficulties caused by the ongoing severe sanctions, and the fact that Hamas and Iran were on opposite sides in the recent civil war in Syria, it is doubtful if Iran has donated more than the official $100 million declared by the ministry of foreign affairs.
In fact, among the most important sources of funding for Hamas are donations from ordinary people in various countries, as well as from political groups and charitable institutions. According to a report by Russia's Sputnik news agency in January 2022, Hamas receives more than 95% of its funding from such donations.
One of the most important non-governmental organisations supporting Hamas is the Muslim charity, Al-Ansar, which is related to the Islamic Jihad group, while in the US a number of financial institutions have claimed that Hamas is very active in the cryptocurrency market - The Wall Street Journal recently reported that it has gained nearly $41 million from cryptocurrency investments over the past seven years. This produced calls in the US for stricter rules regarding Hamas and its activities in America.
Leadership
Hamas leader, Ismail Haniyeh, was born in 1962 in the Shati refugee camp in Gaza and by the late 1980s he had become a prominent member of the movement. In 1989, he was imprisoned by Israel for three years during its crackdown on the first Palestinian uprising. He was later exiled in 1992 to a no-man's-land between Israel and Lebanon, along with other Hamas leaders. After a year in exile, he returned to Gaza and in 1997 was appointed head of the office of Hamas's spiritual leader, solidifying his position.
Haniyeh served as the Palestinian prime minister in 2006 after Hamas won the biggest bloc of seats in parliamentary elections. However, he was dismissed a year later when Hamas ousted Fatah from the Gaza Strip in a week of violence. But Haniyeh claimed his removal was "unconstitutional" and refused to accept it. He remained in nominal office and in 2017 was elected as the head of Hamas's political bureau. There are a number of reports about his personal wealth and properties in the West Bank, as well as in Gaza - one of his sons, Maaz Haniyeh, has not been shy about showing off his life of luxury in Turkey.
Military
Mohammed Deif leads the Izz ad‑Din al-Qassam Brigades, the military wing of Hamas. Deif was born in Gaza's Khan Yunis refugee camp in 1965, at a time when the territory was occupied by Egypt. He survived several assassination attempts in 2002, which resulted in injuries including the loss of an eye, a foot and a hand. Israeli security forces attempted to assassinate him again in 2014 during an assault on the Gaza Strip, which resulted in the death of his wife and their infant son. Israel thought it had killed Deif too, but he was not in the building at the time of the attack.
Then there is Yahya Sinwar, the Hamas leader in the Gaza Strip. Born in 1962, he was the founder of the Hamas security service, al‑Majd, which is responsible for handling internal security matters, investigating suspected Israeli agents, etc. There is also Marwan Issa, Deif's right-hand man, who serves as the deputy commander-in-chief of the al-Qassam Brigades. He was detained by Israeli forces during the first intifada for five years due to his involvement with Hamas, and in 1997 the Palestinian Authority arrested Issa, but he was released after the second intifada in 2000.
He has been a high-priority target for Israel and was injured in an assassination attempt in 2006. Additionally, Israeli airstrikes twice destroyed the house he inhabited during incursions into Gaza in 2014 and 2021, resulting in the death of his brother. Issa is believed to have played a significant role in planning incursions into Israel, including recent ones.
Other prominent figures include Khaled Meshaal, one of the founding members of the organisation, and Mahmoud Zahar.
All in all, the Palestinian people can expect very little from such leaders - or those in power in Arab and Muslim states. However, the current policy of genocide pursued by Israel, with the support of the US and its allies, could pave the way for new radical solutions. It is possible that the peoples of the region will rebel against their own governments and the Palestinians will free themselves from the limitations imposed by corrupt and incompetent leaders.
---