05.10.2023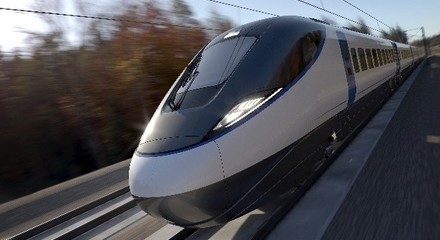 Staring at an electoral drubbing
Peddling conspiracy theories, bashing the EU, migrants and the undeserving poor - no wonder Nigel Farage loved it. But, writes Eddie Ford, this year's Tory conference was dominated by one issue: HS2
Given that this year's Conservative Party conference was dominated by the question of HS2, it was obviously a stroke of genius to hold it in Manchester at a convention complex converted from the city's former central railway station - perfect symbolism! In the run-up to the conference Rishi Sunak was unable to give a straight answer to a straight question - will he be axing the Birmingham to Manchester leg?
In the end, as widely predicted, Sunak announced that he has gone for cancellation, because "the facts have changed" - presumably meaning the rising costs. It would still be going to Euston, but the station rebuild would be taken out of the hands of the HS2 organisation and handed to the new Euston Development Zone. Instead, according to Sunak, the government would invest the £36 billion saved from HS2 in other transport projects across the whole country.
Of course, the cancellation will itself have its own costs running into the many billions. It would be Narnialand to believe otherwise. Compensation will have to be paid to companies for the work they have already done in design and development, there are the compulsory purchases too. There is moreover the question of investors who have banked on Manchester having a high speed connection with Birmingham and London.
Without the fine details yet, there are a lot more unanswered questions. For example, what exactly happens to Northern Powerhouse Rail ('HS3'), as the Manchester part of HS2 was to form the start of this east-west link. Prior to Sunak's announcement, a furious Andy Street - Tory West Midlands mayor - told reporters that the prime minister was in danger of "cancelling the future" and warned him that abandoning the link whilst actually in the city would be "an incredible political gaffe" - something that is still hard to disagree with. As for Andy Burnham, the Labour mayor of Manchester, he described the axing of the northern legs as "profoundly depressing".
Boosterism
It is a far cry from the glory days of 2019 and Boris Johnson's boosterism. Now we have a Tory prime minister rubbishing all his post-Thatcher predecessors, U-turning on net-zero targets, promising to be the drivers' friend by opposing 20mph limits, dismissing Ulez zones and promising to fix pot holes. Yes, it's change, but hardly inspiring. Same goes for his 'big idea' of upping the smoking age by a year, every year. Imagine a poor shop keeper having to ask a 25 year-old, a 35 year-old, a 45 year-old for ID before selling them a pack of twenty. It really is very stupid.
No wonder Tory insiders talk of their party undergoing an identity crisis. What do we believe in? What do we stand for? There are no answers from Sunak, that is for sure.
The internal divisions were well illustrated by the row over taxes, which bubbled and boiled throughout conference - with the chancellor's speech on October 2 making no commitments to cutting taxes: rather announcing £1 billion of savings from freezing Whitehall jobs and a further crackdown on benefit claimants. True, bashing the worst off, the most desperate, the undeserving poor, always goes down well amongst the Tory rank and file.
But as things stand now, the British taxpayer is experiencing World War II levels of taxation, yet the Tories have always prided themselves on being a low-tax party - a fundamental part of their political DNA. A point made by Michael Gove, levelling up minister: breaking ranks, he demanded tax cuts before the next election.
Essentially, what has happened is that some workers in some industries have just about managed to keep up with inflation, meaning that a whole raft of them have landed themselves in higher tax bands ('fiscal drag'). Vote Tory, get high taxes!
Sir John Curtice, purportedly Britain's leading psephologist from Strathclyde University, has said that the Manchester conference was more like a wake. Divided at every level and seems to be facing a massive general election defeat. Opinion polls are extraordinary gloomy for the Tories. Depending on which poll you look at, they are either 18 or 16 points behind Labour with no prospect of a post-conference bounce - quite the opposite, if anything. Further spooking them was a poll published in The Observer, revealing that a third of those who voted Tory in 2019 are now intending to switch to other parties - things are looking worse and worse for the Tories.
Curtice also tells us that the key issues that concern the British people, quite understandably, are the economy and most of all, the national health service - which is creaking, as the Tories have systematically run it down. Waiting lists under the Blair-Brown Labour governments consistently fell, as they threw money into the NHS, even if a lot of that money went into hugely wasteful 'private finance initiative' schemes. Nonetheless, they got hospitals built, workers got pay rises and the NHS expanded.
But waiting lists under the Tories have gone up and up. The pandemic is a partial explanation, true, plus recent BMA strike action. The main reason, however, is austerity and starving the NHS of funds to upgrade facilities, invest in new treatments and hire workers. There are well over a 100,000 unfilled posts. Hence waiting lists now stand at an enormous 7.2 million! Of course, though not always said explicitly, the Tory answer is yet more privatisation - meaning the slow and remorseless death of the NHS.
Agenda
With the Tories facing a big election defeat the jockeying to replace Sunak began even before the Manchester conference and its fringe meetings.
So step forward Suella Braverman, home secretary, with a speech in Washington DC to a rightwing thinktank on September 26 - setting out her leadership pitch. She spoke about the need for human rights "reform" due to the "existential challenge" posed by illegal migration, arguing that world leaders had failed to meet the challenge because of fears of being called "racist or illiberal". She went on to suggest that being gay or a woman and fearful of discrimination should not be enough to qualify as a refugee, claiming that multiculturalism was a "misguided dogma" that had allowed people to "live parallel lives".
Then we had her populist speech to conference itself, warning of a "hurricane" of mass migration and attacking the "luxury beliefs" of liberals - the Human Rights Act should be renamed the "Criminal Rights Act", she said. Ramping up the rhetoric, she claimed that "Britain would go properly woke" under a Labour government, with people "chased out of their jobs for saying that a man can't be a woman" and "scolded for rejecting that they are beneficiaries of institutional racism". Going full-throttle, she defended Tory London mayoral candidate, Susan Hall, who had stated that Jewish people were "frightened" by the prospect of the "divisive" Sadiq Khan, being returned as Labour mayor. Some quickly compared her "hurricane" comment to Enoch Powell's notorious 1968 "rivers of blood" speech.
There is definitely a critique to be made of top-down, state-sponsored multiculturalism and official or institutional anti-racism - phenomena that have indeed divided the working class, as the Weekly Worker has pointed out many times. Of course, some sections of the left still live in the 1960s. Britain is inherently racist, we are told. Yet here was Braverman daring anyone to call her a racist as she dished out her anti-migrant bile. Sunak too. In his closing speech he recalled his family's migrant background and proudly listed the ethnic minority members of the current government - to the applause of delegates. But what the Conservative Party, the Labour Party, the Liberal Democratic Party, etc, etc, stand for is British chauvinism, the interests of Britain as against other countries and peoples.
We also saw the (re)appearance of Liz Truss, the shortest-serving prime minister in British history - does she fancy another stab at the leadership? Showing absolutely no signs of contrition, acting more like a saviour coming back from afar, her fringe event - or 'growth rally' - attracted a packed audience, in marked contrast to the rows and rows of empty seats for ministerial speakers at the conference itself. She called for immediate cuts to corporation tax, the building of 500,000 new homes and resuming fracking to cut energy bills, urging Tory Party members to "unleash their inner conservative" instincts.
During the meeting, Ranil Jayawardena (environment minister in the Truss cabinet) called for stamp duty to be scrapped on people's principal homes, while Jacob Rees-Mogg called for the scrapping of the "pernicious" inheritance tax. Jake Berry, the Conservative Party chairman during Liz Truss's brief premiership and one of 30 Tory MPs who have signed a pledge to vote against further tax rises, said he was unafraid of "standing up" to Rishi Sunak's administration. Priti Patel, the former home secretary, declared that "we cannot be timid any more" and "we cannot accept the status quo". So far, Truss's Growth Group includes 60 MPs - the same size as the government's current working majority in the House of Commons.
Two rival manifestos were launched at conference, one by the more than 30 Conservative MPs in the Northern Research Group - calling for huge investment in public services in the region, and the transfer of more political and tax-raising powers from Whitehall. The other one was issued by the New Conservatives - a group of the usual suspects of rightwing MPs, who demand that Sunak pulls Britain out of the European Convention on Human Rights, cuts taxes for families, small businesses and entrepreneurs and halves the number of visas for migrant workers and foreign students and their families, in order to slash immigration. Danny Kruger, co-chair of New Conservatives, said "radical action" was needed to recreate the wide coalition of supporters that had allowed his party to win an 80-seat majority in 2019.
Bizarre
Showing their desperation, prominent Tories seem determined to refight sometimes bizarre battles from the past and going down the rabbit hole of crazy conspiracy theories. Thérèse Coffey, the secretary of state for the environment, promised to cancel EU rules on "bendy bananas" - remember them? She also attacked "green zealots" who want to make people eat "fake meat", which "might be OK for astronauts", but people want "great Welsh lamb" or "Aberdeen Angus beef". Robert Jenrick, immigration minister, called for the right sort of British women to have more children - playing straight to the 'great replacement' nonsense. Mark Harper, secretary of state for transport, said he would stop local councils from deciding how often people can go to the shops, despite being unable to name a single council which is doing any such thing. Tory backbencher Miriam Cates, one of the co-chairs of the New Conservatives, used a fringe event to bizarrely argue that internet pornography was a driving factor in people becoming transgender - without presenting any evidence, of course. Meanwhile, Steve Barclay, the health secretary, declared war against "wokery" in the NHS on the grounds that women's rights were being increasingly sidelined. Therefore transgender women will be banned from being treated in female hospital wards in England and sex-specific language would be used when dealing with women's health.
No wonder that Nigel Farage was pleased with how the Manchester conference panned out, telling the BBC's Today programme that the Conservative Party was increasingly aligned with his views. He also thought that GB News, being one of its presenters, would be influential in determining who gets to be the next leader of the Tories - the station regarding itself as an anti-establishment disruptor. Farage received a hero's welcome from rightwing Tories at Liz Truss's fringe event, while Priti Patel hailed his role in delivering Brexit and helping Boris Johnson win the 2019 general election by standing candidates down. If Farage became a Tory member, many would choose him as party leader if they could.