20.07.2023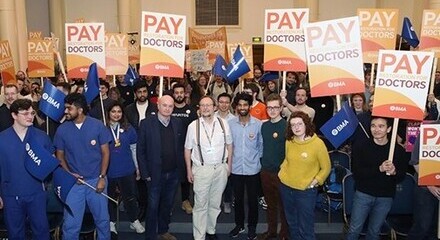 Back on the picket line
Richard Galen reports on the recent round of action by junior doctors and what happens next in the NHS
Coordinated strike action between junior doctors and consultants in England, and a much more credible pay offer to colleagues in Scotland, has increased the pressure on the Tory government. Junior doctors who are, of course, members of the British Medical Association, have just completed a five-day walkout - the longest ever seen in the history of the NHS and their fourth round of industrial action. This is due to be swiftly followed by consultants working to a 'Christmas Day level' for two days from July 20.
The strikes went ahead following a derisory pay offer of 6% plus a one-off £1,250 for the juniors (6% for consultants, 5% for staff in the armed forces), announced on the day that the latest walkout commenced. This was in line with the recommendations of the Doctors' and Dentists' Remuneration Board (DDRB) - a supposedly 'independent' advisory body on pay - and is, in fact, a small increase from the previous offer of 5% from health secretary Steve Barclay. But, crucially, it represents yet another real-terms pay cut, and fails to even scratch the surface of the BMA goal of full pay restoration to 2008 levels (in practice, a rise of 35%). Interestingly, an unnamed backbench Tory MP was quoted as stating that the government "basically rigs those [pay reviews] anyway - they are told what the budget is", confirming what many doctors suspected about the 'autonomy' of the DDRB.
On Twitter, prime minister Rishi Sunak declared that this was a final offer and there would be "no more talks on pay", despite not having even had a formal meeting with the chair of the BMA consultants committee. Unsurprisingly, the BMA refused to call off the upcoming consultants' strike, and indeed has gone further, announcing the next two-day action, which is to start on August 24. The latest industrial action is set to cause severe problems for the Tories - not only in terms of cost to the health service (estimated to be as high as £125 million for the juniors' five-day walkout), but also through increasing waiting lists - one of the prime minister's five "key priorities" was to cut them.
Also of note is the fact that government budgets for the health service have not even accounted for fully funding the current pay offer. Part of it is to be paid for by increasing the Immigration Health Surcharge - the extra punitive tax that migrant workers have to pay to access NHS services - as well as the cost of work visas. This will have a huge impact on the vast numbers of so-called International Medical Graduate doctors who are helping to prop up understaffed hospitals across the country, as they will now be paying upwards of £1,000 per year (per person, if they wish to bring their family to the UK) for the privilege of using the NHS services that they themselves are helping to run.
This indicates the laughable nature of the government's claims that the current pay offer will help to retain doctors - even seen in the DDRB's recommendations that, in an international market, doctors should be incentivised to remain in the UK. Other countries stand ready and waiting to poach doctors from these shores, with the president of the Canadian Medical Association tweeting earlier this week that they are working to make it easier for NHS doctors to emigrate and start jobs advertised as having much better pay and working conditions.
Against this chaotic background, the government has just released the NHS Long Term Workforce Plan. Needless to say, it is lacking in many areas, starting with the fact that future reviews of the plan have not even been legislated, making it likely that it will be conveniently buried if not showing signs of success. The plan emphasises the need to retain staff - a direct contradiction to the current lack of negotiations on pay rates and increasing barriers to attracting doctors from abroad. It talks about using technological innovations to maximise productivity, yet fails to address how improvements to an outdated information technology infrastructure, commonplace in the NHS, will be achieved.
More worryingly, it proposes increasing the number of doctors by reducing undergraduate medical degree courses to four years (currently five), raising concerns about creating a 'two-tier' system of qualified doctors. Also, without a plan to fund a commensurate increase in postgraduate training places, this will simply create bottlenecks in the career pathway - again prompting doctors to leave the NHS entirely when they realise they cannot progress. And this system also raises the question of who is going to train all these new graduates, with provision for education by an overstretched, burnout-prone workforce at an all-time low.
Meanwhile, north of the border, the Scottish government, which has devolved powers for healthcare, has adopted a wholly different tack. BMA Scotland has just suspended its latest round of industrial action after an improved offer was proposed - an immediate pay rise of 12.4%, with guaranteed rises matching inflation for the next three years, as well as further negotiation of additional above-inflation pay rises that must "make credible progress" towards full pay restoration. As well as this, although not currently engaging in strike action, BMA Wales is currently in negotiations with the Welsh government, which has "committed" itself to the principle of full pay restoration.
The BMA in England has been clear about what the above means - striking works. The union is currently in the process of reballoting its junior doctor members to take the mandate for industrial action forward for another six months. Consultant strikes - arguably even more disruptive and costly due to their massive effect on elective work - are likely to continue for the foreseeable future, with many consultants making up lost wages for strike days by covering for their striking junior colleagues at locum pay rates.
Although the current dispute is centred on pay, it is likely that the NHS workforce plan will be the focus of the future for the BMA. If members and the union committees can hold their nerve in this campaign, they are highly likely to be successful in correcting some of its inadequacies.