Against feminism, for the working class
Geraldine Duffy writes for International Women's Day in March 1985
These extracts from a Geraldine Duffy International Women's Day supplement in the March 1985 issue of The Leninist - forerunner of the Weekly Worker - obviously had political limitations. But, for all its occasional roughness, it drew real strength from the inspiring, living example of the Women Against Pit Closures movement. As comrade Duffy wrote in her intro, "our thoughts and hopes [went] out to the fighting women in the mining communities" and the "magnificent example for all working class women" they provided.
Garbage; Syriza was right; Negative rates; Deniers; Political choice; No thanks; RIP, comrades
Jack Conrad reports from the Communist Platform's steering committee
Yassamine Mather reports on the February 28 meeting of the national council.
Mickey Coulter reports from the Yorkshire regional committee.
Revelations about 'Jihadi John' have led to calls for more curbs on democracy and free speech, writes Eddie Ford
The economic crisis is leaving an opening for the neo-fascist right in Italy, reports Toby Abse
Calling the general election is partially the result of the dissonance between Washington and Jerusalem, writes Moshé Machover
Tony Greenstein thinks that the chances of a Labour-led coalition are slim
Politicians are not the only people in power looking to make a quick buck, reckons Paul Demarty
The first time is always the best according to Robbie Rix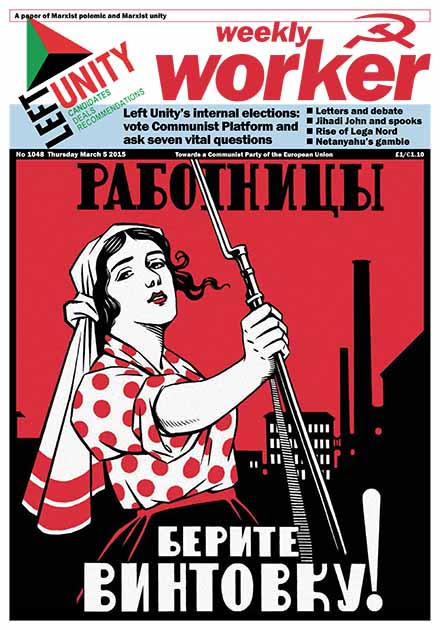 Weekly Worker 1048 is also available in PDF format