26.10.2023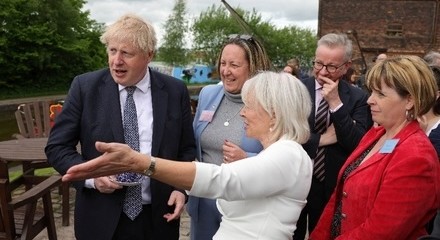 Deserting the ship
Birds of ill omen are flying for Rishi Sunak and the Tory government. After two big by-election wins, Sir Keir increasingly looks like a prime minister in waiting, writes Eddie Ford
Now, we can all be wrong, when it comes to making predictions. After all, many were convinced that Britain would never vote to leave the European Union, and that Donald Trump would never become president - the political establishment would not allow it! But after last week's devastating by-election defeats, the writing really does seem to be on the wall for the Tories, with things only going from worse to worse.
On a fairly low 35.9% turnout, the Tamworth seat was won by Sarah Edwards, the Labour candidate, getting 11,719 votes, compared to the 10,403 for the Conservative candidate - the charming Andrew Cooper, who in 2020 posted a message to Facebook telling jobless parents who cannot feed their children to "fuck off" if they still pay a £30 phone bill. This represented a swing of 23.9%, the second-biggest from Conservative to Labour since 1945. No government has previously lost so safe a seat in a by-election - making it a bird of ill omen for the Tories, especially when you consider that parties to their right (Reform UK, Britain First and Ukip) attracted a total combined vote of 9.4%.
Pincher by nature
We also need to remember the revealing context. The by-election happened due to the resignation in June last year of the sitting Tory MP, Chris Pincher, following allegations that he had sexually assaulted two men, and his recommended suspension from the House of Commons for eight weeks. These and other allegations pre-dated his appointment by Boris Johnson, who piously denied all knowledge. But it was later revealed that Johnson had actually been aware of the allegations - according to Dominic Cummings, the then prime minister had joked in 2020 about the MP being "Pincher by name, pincher by nature". Many cited this scandal as the final straw that led to Johnson's resignation.
Then we have Mid-Bedfordshire - a seat comprising various small towns and rural areas in the outer parts of the London commuter belt, which has voted Tory since 1931. The seat became vacant following the resignation on June 9 this year of Conservative MP, Nadine Dorries, also under interesting circumstances. A die-hard Boris Johnson fan, and another person known for exemplary integrity! She lost the whip in 2012 after she took part in the I'm a celebrity ... Get me out of here! TV programme without informing the chief whip (getting re-admitted a year later). Despite her announcement that she was standing down from the seat "with immediate effect", she tortuously delayed her resignation until August 29 following a storm of criticism about her absence from parliament, improper conduct, and so on. Some commentators thought that she simply behaved like this to cause trouble for Rishi Sunak, which might possibly be true. Her main beef was, though, not being elevated into the House of Lords.
Anyway, on a 44% turnout, Labour's Alistair Strathern won by 13,872 votes to 12,680 on a 20.5% swing - the first time a Labour member had held the seat in its 105-year history. Another bird of ill omen flutters in the sky. In fact, when examined further, the statistics for both by-elections make for even worse reading if you are a Tory. In Mid-Bedfordshire, the Conservatives' own share of the vote fell by even more than in Tamworth - the 28.7-point drop being the sixth biggest fall in Tory support in the post-war period. As for Tamworth itself, the result is particularly painful, because the seat voted strongly to leave the EU in 2016 and Labour's vote in the constituency had actually been in long-term decline.
Delusion
Labour's success in Tamworth especially augurs well for its chances of recapturing the many so-called 'red wall' seats that the party lost in 2019 - with Boris Johnson promising (or lying about) 'levelling up' and 'getting Brexit done' (which he didn't lie about). Of course, it was just three months ago that a narrow Tory victory in Johnson's old Uxbridge seat gave the Tories a sudden rush of hope, with Sunak declaring that the next general election was "not a done deal". But the idea that Uxbridge was a potential pathway back to electoral recovery looks like a pathetic delusion and the next election, if anything, now looks more of a done deal that it did before October 19.
For the Tories, these crushing by-elections defeats must bring back disturbing memories of the results that characterised the 1992-97 parliament. Hence in its last three years, there were four by-elections in which there was a swing of more than 20% from Conservative to Labour. But now we have had three in just three months - a dramatic speeding up of events, which can only point in one direction. Even more significantly, one of those four by-elections happened to be in none other than Tamworth (albeit called then South East Staffordshire). Almost uncannily, history has more or less repeated itself - because in April 1996, Labour won the seat with a 22% swing, before going on a year later to achieve a landslide victory under Tony Blair with a 179 majority.
Yes, we all know that swings against the government in by-elections are often an exaggerated reflection of the current national mood. Some desperate Tory spokespersons have pointed to the fact that turnout fell strongly in both by-elections by around 30 points, compared to the general election - presenting this as a lack of any real enthusiasm for Sir Keir Starmer's Labour Party. No doubt this is true, but it just serves to emphasise the truly dire state the Tories are in. Turnout fell by similar levels in the by-elections we had in the 1992‑97 parliament, only for there to be record high swings to Labour in the general election. The Tories cannot avoid the fact that, by all measures, Labour's performance is matching - or bettering - what happened in the run-up to the 1997 general election.
No wonder stories are going round that the chancellor, Jeremy Hunt, will resign before the next election to avoid a 'Michael Portillo moment'. Portillo was an intolerant, rightwing Thatcherite MP, who in 1997 got trounced by a complete outsider, Stephen Twigg - the first openly gay president of the National Union of Students. This was an event that came to symbolise the extent of the Labour landslide victory - the images of a crestfallen Portillo at the count still provide a happy memory for many people of a certain generation. He contested for leadership of the party following the 2001 general election, but many reckon that Portillo's 1999 admission to The Times that he "had some homosexual experiences as a young person" scuppered his chances - losing out to the self-styled 'quiet man', Iain Duncan Smith.
Naturally, there are plentiful rumours of other MPs and ministers quitting before the election, including names like party chairman Greg Hands, deputy prime minister Oliver Dowden and leader of the House of Commons, Penny Mordaunt. A special MRP poll published recently by The Observer, taking into account the new constituency boundaries that the next election will be fought on - which have been blatantly gerrymandered to the detriment of the Labour Party1- suggested that Labour would win 420 seats, equating to a landslide 190-seat majority despite the 20 or more seats stolen in the redrawing of the boundaries. The Tories would lose all their 'red wall' seats and 20 behind the 'blue wall' - saying just about everything you need to know about today's Conservative Party. With no post-conference bounce (quite the opposite!), Rishi Sunak's attempts to portray himself as the 'change' candidate challenging the status quo in politics has been an abysmal and predictable failure.
Mistaken
Only a short time ago some comrades on the left were actually saying that Keir Starmer did not want to beat the Tories and win the election. Apparently, all he cared about was getting rid of the Labour left. This was when Starmer was trailing behind the Tories in opinion polls and not doing particularly well in by-elections. Obviously, these comrades were badly mistaken in their assessment of Sir Keir and what he is all about. They did not understand that the Labour Party could function perfectly well without the dues being paid by activists or the left acting as the donkeys dishing out leaflets, knocking on doors, and so on.
Potentially, Starmer will have The Sun on his side - not to mention The Times, Sunday Times, Financial Times, etc. 'Sensible', 'moderate' opinion is now backing Starmer and his team, wanting to put the crazy and chaotic Tory years behind them - shuddering at the memory of David Cameron, Theresa May, Boris Johnson and Liz Truss. Indeed, as has been reported in the Weekly Worker and elsewhere, seriously rich individuals and capitalist companies have been paying Labour considerably more than the trade unions - the traditional financers of the party. In September, it was reported that Labour had boosted its election war chest with a record quarter for funding, receiving more than £10.4 million.2 This included £3 million from David Sainsbury, the supermarket baron, as well as £2.2 million from Gary Lubner, who made hundreds of millions of pounds running the company behind Autoglass. That trend will surely accelerate as the general election gets nearer.
True, the party's mass membership has shrunk by about 200,000. But, on the other hand, it is worth pointing out that people have been joining as well (or rejoining). You and I might guess what sort of people they are politically. They simply look at a Labour Party that is on the up and likely to be a winner, and want to be associated with that - as opposed to the Conservative Party, which appears dead on its feet. Some of these new recruits will be dreaming of getting into parliament or, more likely, into the council chamber. Besides that, there are all sorts of quangos to fill, government advisors to be appointed, and so on. You name it and the opportunity is there for some ladder climbing careerist. The payroll list is going to be very long.
The most noticeable thing now about the last Labour conference is the presence of big business, special receptions and stands, that are all over-subscribed - the Financial Times jokingly referring to the "Liverpool Davos". Labour's 'business day' had twice as many firms involved as last year, with the likes of Goldman Sachs, Boeing and Amazon sponsoring events.
As Hamish Sanderson of Labour Business loudly proclaims, "Labour is now the party of all business," which is meant to convey the message that, unlike the Tories, it is not just the party of hedge-fund managers. How the trade union bureaucracy squares that particular circle remains to be seen. One thing is certain though, the working class needs to prepare for the most rightwing Labour government ever … and that is really saying something, given the rotten history of Labour governments.
---
theguardian.com/politics/2023/sep/02/millions-of-missing-voters-cost-labour-seats-due-to-electoral-boundaries-bias.↩︎