Steele's very British coup
Whatever the truth of the salacious details, the Trump dossier is a reminder that the state is not politically neutral, argues Jim Grant
Shall the fun never end? This paper has already called the present lame-duck phase of the American political cycle the most dramatic since 1860,1 but in accordance with the laws of the Hollywood narrative arc, the stakes have been raised at the very death.
Counterrevolution; Not face value; Substance; Do both; The candidate; Ridiculous
Al Jazeera's The lobby exposes the establishment's 'anti-Semitism' claims for what they are, writes Tony Greenstein
In this article, based on a presentation to Communist University 2016, Kevin Bean examines the subjective and objective factors that prevented the development of a powerful working class republicanism in Ireland
Theresa May feels forced, despite herself, to go for a 'clean' Brexit, argues Eddie Ford
Claims that the Five Star Movement is some kind of leftwing formation have been well and truly exposed, writes Toby Abse
Lawrence Parker reviews: Paul Flewers and John McIlroy (editors) 1956: John Saville, EP Thompson and The Reasoner Merlin Press, 2016, pp450, £20.
Rex Dunn reviews: James Ensor exhibition, Royal Academy of Arts, ends January 29 and Robert Rauschenberg exhibition, Tate Modern, ends April 2
Despite widespread outrage over the Lansman coup, there is little appetite to split Momentum, says Carla Roberts of Labour Party Marxists
Robbie Rix wants you to take the wheel and step on the gas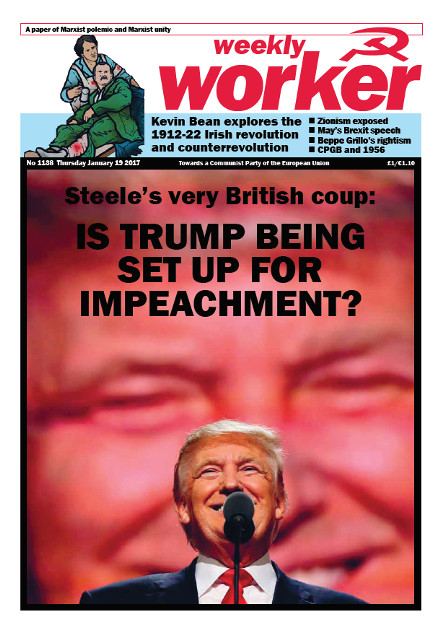 Weekly Worker 1138 is also available in PDF format