Rightwing panic grows
Ordinary leftwing activists are using the weapons supplied by the right against the right, says Eddie Ford. Things will never be quite the same again
With the ballot papers due to be sent out on August 14, Jeremy Corbyn still maintains his lead in the Labour leadership contest. Private polling by the Daily Mirror has Corbyn way ahead on 42%, with Blairite clones Yvette Cooper and Andy Burnham trailing behind on 22.6% and 20% respectively.1 As for Liz Kendall, who could have been selected by Tory Party central casting, she is obviously out of the race on 14%.
Told you so; Frontrunner; Unity; Fenland Labour; Teesside LU; Personalised; Principled move; Bastards; Engels wrong
Critique editor Hillel Ticktin takes issue with the line of the Weekly Worker. He spoke to Mark Fischer
We need a real working class strategy, says Daniel Harvey
Ken Loach (director) Jimmy's hall 2014.
Turkey's 'game-changer' has exposed the illusions of sections of the left, writes Yassamine Mather
As the Labour leadership contest gets ugly, William Kane begins to worry about the sanity of the bourgeois press
The SACP grip over the workers' movement remains strong, writes Peter Manson
Under the pretext of joining in the fight against IS, writes Esen Uslu, the Turkish state has unleashed a ferocious assault on the PKK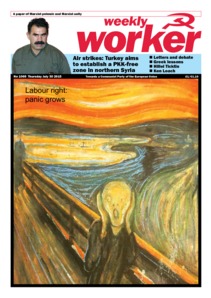 Weekly Worker 1069 is also available in PDF format