What if Syriza wins?
Is the left obliged to spread illusions in a Syriza government? No, quite the opposite, argues Eddie Ford
Greece is preparing itself for a general election on January 25 after Antonis Samaras, prime minister and New Democracy leader, failed to get his candidate chosen as president by the 300-seat parliament. Samaras's gamble was always a long shot, leading some to believe that he wanted to trigger a snap general election. The more conspiratorially minded have suggested that Samaras was quite happy to let a government led by Alexis Tsipras of Syriza be stuck with the burdensome task of continued talks with the European Commission-European Central Bank-International Monetary Fund troika over the exact terms of the bailout programme - and take the blame when it all goes wrong. At the moment, Greece needs to repay IMF loans worth about €2.8 billion by the end of March.
Best guess; Ruminations; Alien aid; Ancient aliens; Back to Jurassic; Pariah Status; Ted said so
As the Italian president prepares to step down, Toby Abse looks at the likely contenders
In the age of 'colour-blindness', what accounts for the targeting of blacks by police? Jim Creegan critiques a recent influential book
Why do some on the left call for the west to step up its intervention against IS? Yassamine Mather looks at the results of past efforts
Shlomo Sand How I stopped being a Jew Verso, 2014, pp102, £9.99
The left failed the test of the Miners Strike, argues Mark Fischer
Peter Manson looks back at the SWP conference
Whatever the truth of allegations against Andrew Windsor, the Jeffrey Epstein case paints a grim picture of the top of society, reckons Paul Demarty
We nearly made our new target says Robbie Rix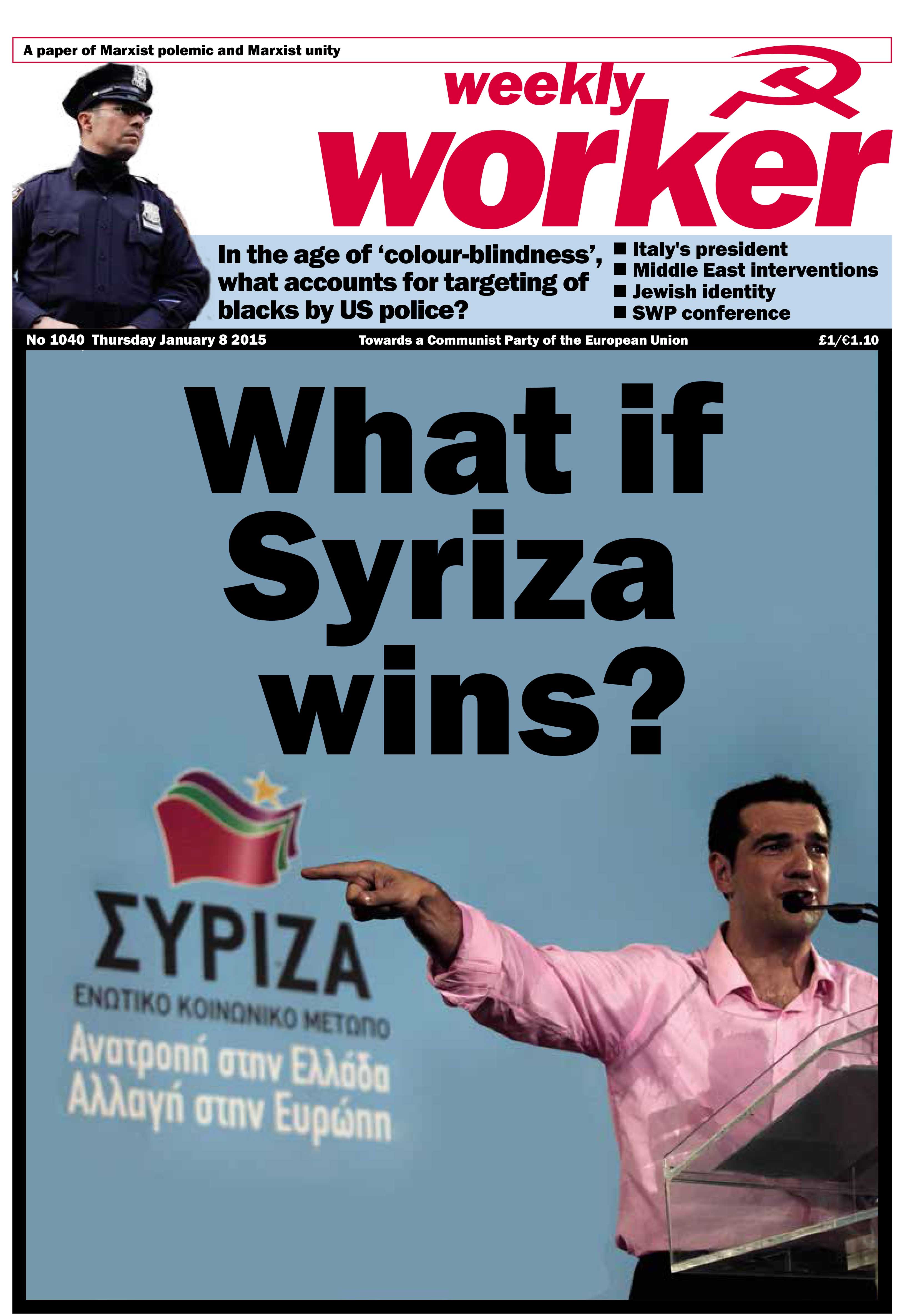 Weekly Worker 1040 is also available in PDF format