General election now?
Whatever the SWP might think, argues Eddie Ford, the Tory Party is not about to split
The Tory leadership battle is well underway, with Theresa May clearly ahead. At this stage, however, it is important to recall why the referendum that provoked the contest took place. It was certainly not because the dominant section of the elite decided that they needed to fundamentally reorientate a well-established British foreign policy going back many decades - which, post-Suez debacle, was to act as an agent or proxy for US imperialism within Europe. Ever since Britain gained entry in 1973, as we all know, Europe has acted as a lightning rod of discontent - it is blamed for just about everything you can think of from lack of school spaces to 'uncontrolled immigration'.
Class reaction; Big mistakes; Afraid?; JC's war; Resistance; Deluded; Dreamland; Chilcot concerns; Point by point?; Master of time
Chakrabarti relies on the subjective, writes Tony Greenstein. She also fails to understand how 'anti-Semitism' was weaponised by the Labour right
The UK referendum vote has added to the uncertainty in Italy, notes Toby Abse
Abbas Kiarostami, June 22 1940 - July 4 2016, Yassamine Mather shares her memories
A genuine exchange of ideas is the last thing the SWP leadership wants, writes Peter Manson
The story of prehistoric human communism was missing from the SWP's Marxism reports Stan Keable
The Labour plotters are well organised, but weaker than they look. Jim Grant of Labour Party Marxists urges that we take the fight to them
Chris Cutrone of the Platypus Affiliated Society traces the origins of current socialist terminology1
We're off to a brilliant start to the Summer Offensive, says Peter Manson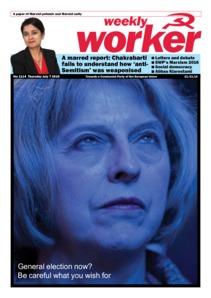 Weekly Worker 1114 is also available in PDF format