Ebola: Crisis of infrastructure
Ahmad Ebrahimi examines the root cause of the Ebola epidemic
What has allowed an apparently insignificant virus like Ebola to evolve into a potentially global epidemic? First identified near the Ebola river in the Democratic Republic of Congo 38 years ago, it has been the source of a number of small outbreaks in countries of central and west Africa. All these either petered out or were brought under control after deaths counted in tens and occasionally hundreds. The largest previous epidemic was in Gulu district in the north of Uganda, with 425 infections and 224 deaths.1 As I write, the fatalities for the current outbreak are officially approaching the 5,000 mark.
Cosy world; Answers; Not progressive; Leisure scabs; Off-piste; In the open; Sniping; Confirmed
David Cameron's appeasement of the Eurosceptic right could backfire dramatically, warns Paul Demarty
Deep divisions over divorce and homosexuality were revealed by the recent synod, reports Eddie Ford
The current growth of the UK economy is unsustainable, says Michael Roberts. Indeed, there is a danger of another slump
Patrick Smith exposes spurious justifications and disastrous results
While The Leninist's critique of Stalinism was still developing, it had no hesitation in calling the export of Polish coal to Britain during the miner's strike a scab act.
Looking to a Labour government for salvation is a hopeless perspective, argues Peter Manson
Robbie Rix is making an offer you can't refuse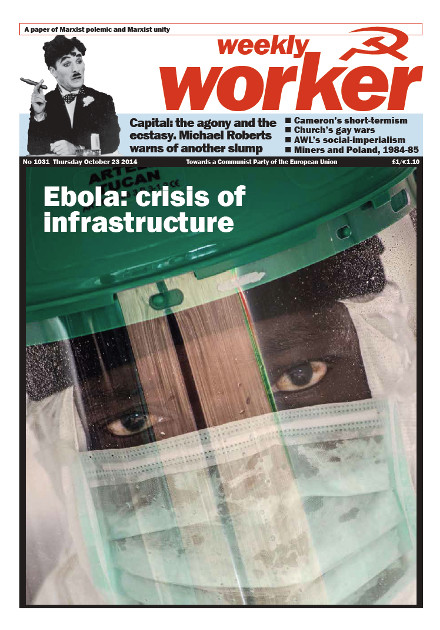 Weekly Worker 1031 is also available in PDF format