Qui est Charlie?
Paul Demarty asks, who exactly is Charlie?
The last but one issue of Charlie Hebdo had a print run of 60,000. A satirical journal of niche interest within France and total obscurity without, however, has just published three million copies, in many languages, which is destined to sell out.
Concrete; Premature; Backfire; Austerity; Illusion; Spell it out; Free movement; Too leftwing; Mind games
Government leaders who gathered in Paris to express 'solidarity' with Charlie Hebdo are no friends of free speech, says Eddie Ford
Did outrage caused by the provocations of an irreverent magazine provoke the Paris attacks? Yassamine Mather looks beyond this simplistic myth
How has the left reacted to the Paris slaughter? Peter Manson has been taking a look
Jack Conrad shows that the LU constitution internalises trade union defeats and contains self-defeating time bombs
The miners needed to defend themselves. Mark Fischer discusses how difficult that was.
Exhibition: Conscience and conflict: British artists and the Spanish Civil War Pallant House Gallery, Chichester until February 15, 2015; then Laing Art Gallery, Newcastle-upon-Tyne, from March 7 to June 7
The leadership of the PCS have trivialised the struggle to save the union, reports Simon Wells
Robbie Rix always appreciates compliments from the readers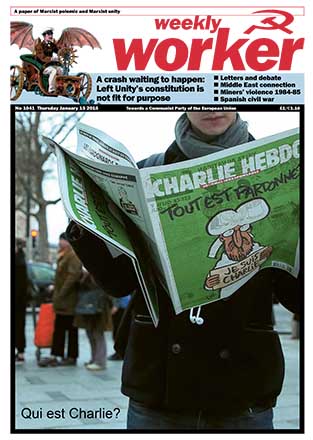 Weekly Worker 1041 is also available in PDF format