Left Unity: code of conduct or a safe spaces nightmare?
How to vote at conference- Mike Macnair explains the Communist Platform's recommendations for November 15-16
According to the Institutes (533CE), an introductory law textbook enacted by the late Roman emperor, Justinian (reigned 527-565CE), "A statute is the type of law which the Roman people used to make on the motion of a senatorial magistrate: for instance, a consul. A plebiscite is the kind which the plebeians used to enact on the motion of a plebeian magistrate, such as a tribune."
Propagandists; Gift to Zionism; Courage; Feel the poppy; Not exploited; Free schools; Total surrender
Some members of Left Unity are too quick to throw in the towel, reckons Paul Demarty
Jack Conrad introduced a session on Left Unity at this year's Communist University
Mark Fischer enjoyed himself at Socialism 2014
Stan Keable reports on the Labour Representation Committee's November 8 annual conference
Immanuel Wallerstein, Randall Collins, Michael Mann, Georgi Derluguian, Craig Calhoun Does capitalism have a future? Oxford University Press, 2013, pp192, £14.99
The campaign against Ed Miliband is part of a long tradition, writes Eddie Ford
It's not just the size of your readership that counts...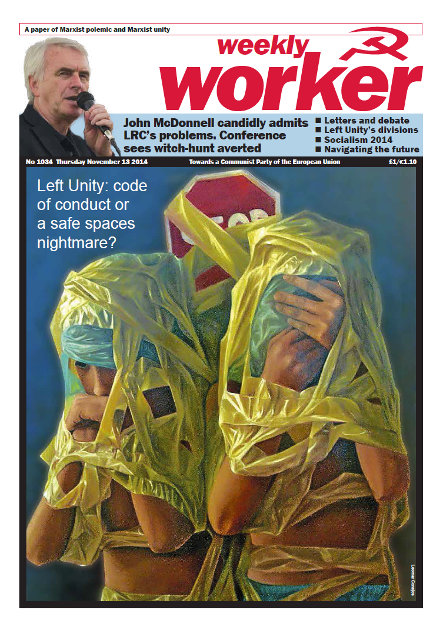 Weekly Worker 1034 is also available in PDF format