Cometh the Brand?
Russell Brand's anarchistic leftism is sincere enough, but his unlikely importance speaks volumes about the left's weakness, says Paul Demarty
When you've got a winning line, it is a good idea to stick to it. Thus, a year after he guest-edited the New Statesman on the theme of 'revolution', Russell Brand has come out with a book of the same name, pushing his now trademark blend of autobiography, sweeping cod-philosophy and scatological humour.
War nonsense; Any day; To the point; Defeatism; Prejudice; Superficial; Abrupt; Taking on Ukip; Clerical error
Last weekend's mass mobilisation in Rome was inspiring, writes Toby Abse. But will trade union militancy be enough?
Greece gave the world democracy, but will Syriza give us socialism? Not in the opinion of Mike Copestake
Noreen Branson History of the Communist Party of Great Britain 1927-1941 Lawrence and Wishart, 2014, pp376, £17.99; and History of the Communist Party of Great Britain 1941-1951 Lawrence and Wishart, 1997, pp262, £14.99
Theresa May's decision to make Lady Woolf the new head of the child abuse inquiry could turn out to be deeply embarrassing, writes Eddie Ford
In 1984 The Leninist interviewed Jack Collins, area secretary of Kent NUM who went on to become disillusioned with the CPGB leadership
No-one in Turkey wants to celebrate what happened in 1914-18, writes Esen Uslu. But when it comes to the glory days of the Ottoman empire things are different
Yassamine Mather points to the link between two outrages in the Islamic Republic
A special supplement from our friends at LPM
The print edition of the WW remains a powerful organ. And - with the continued support of our readers - full-colour, high-definition frontpages will be here to stay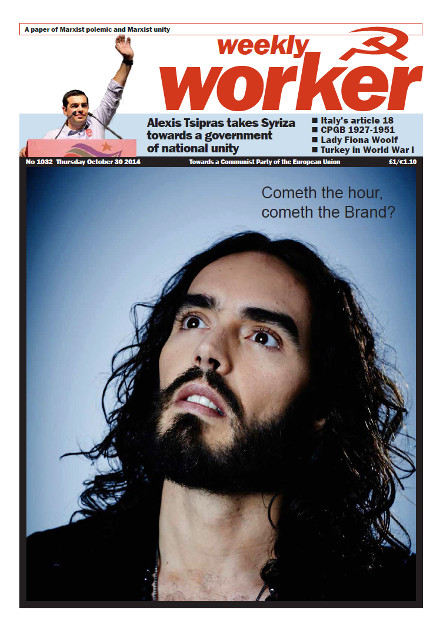 Weekly Worker 1032 is also available in PDF format